Morning
Brekfast in the apartment, at 9:45 departure with the Auto from the Farm holiday to Rivalta sul Mincio. At 10:00 with the collaboration of the association " Pro Loco Amici di Rivalta" excursion with the kaiak on the Mincio river, the "Pro Loco" give the technical and logistical help, they deal the maps of the route too. Marsh-vegetation with thicket of canes, loto flovers and ninfee. From Rivalta to the little port of Grazie, visit of the church of Santa Maria delle Grazie build between 1399 and 1406. In the midle of August big festival of the pavement artists. Return to Rivalta.
Afternoon
After the kaiak restar with the Auto to visit Mantova. The city is on a peninsula, the Mincio river hier have the shape of big see. Mantova was for a long time feud of the Gonzaga family from XIV to XVII century, in that period Mantova became one of the most important center for the Renaissance time not only in Italy but in Europe too. Important names at the court like Andrea Mantegna, Donatello, Battista Alberti leave today very importants monuments. The visit start from the Sordello square, cross the Cathedral, Ducale Palace, San Giorgio castle, the Rigoletto hause, Broletto square, Ragione palace and Mantegna square. In the middle of the afternoon visit to Palazzo Te, it was an island wehre the Gonzaga family has the horses.
Evening
Dinner in the apartment or in a typical farm holiday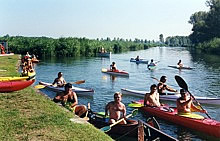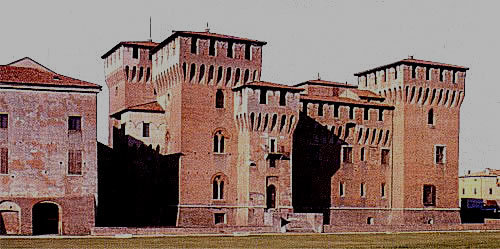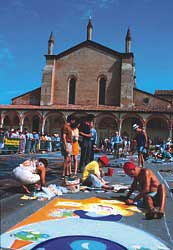 The Mincio river With the kaiak Church of Santa Maria

With the kaiak on the River from Rivalta to Grazie for a term of 2/3 hours.